ECO-HEALTH RESORT

Padmanaba Wawasan Globalindo intents to develop some 150 acres of land for the purpose of fishing port, marina and boat repair facilities, and for tourism township and recreation activities.

Aims
Creating a tourism focus for areas of Lumajang as one of the best Eco-Health Tourism destinations in Java.

New attractions for local and Foreign Tourists, particularly from the Middle Eastern countries and Asia.
General Key Figures

The idea of AMC is to offer an unique international medical and resort offering a variety of services in the realm of healing, prevention and wellbeing. The medical center aims to become one of the hotspots of international medical and tourism targeting those who are in need preventive care.

Location
Property located at Lumajang, located in the East Java province of Indonesia. It covers an area of 1,790.90 sq.km, and had a population of 1,006,458

Origin Resources
Lumajang is one of the ancient cities in Java which still exist up to this day. Lumajang is located approximately 150km southeast of Surabaya. It shares its borders with Jember Regency (to the east),Probolinggo Regency (to the north), and Malang Regency (to the west). It borders the Indian Oceanto the south.

| | | |
| --- | --- | --- |
| Natural Resources | | Infrastructure Resources |
| The unique characteristics of the AMC are a result of natural and climatic factors. The Medical center is situated close to the international airport, in a subtropical humid zone, where it is protected from the cold winds, making it a very favourable location. The key natural tourist attractions of the region include the famous Ranu Kumbolo and BromoTengger Semeru National Park. | | The nearby Juanda International Airport, Pantai Bambang and Malang City, has increased the infrastructure conditions in a very positive way. The Juanda International Airport is a very important requirement for the development of the region. |
To Create a 'Coastal and Rereat'
A living healthty and holiday sanctuary and a 'Self Contained Integrated Facilities' with places for homes, work leisure, entertainment and good health in a laid back and phenomenally awesome environment.

City-Base Green Technology
Green Conscious Development

Aspects of Tourism
Nature, topography, terrain
Supporting activities - (i) constant (ii) periodical
Tourism growth and development parameter - identification of potential destination zone
Tourism avenues - generate new job, new income, new tax revenues
Visitors satisfaction
Financial gains for owners
Environmental protection of Native Flora & Fauna
Integration with community life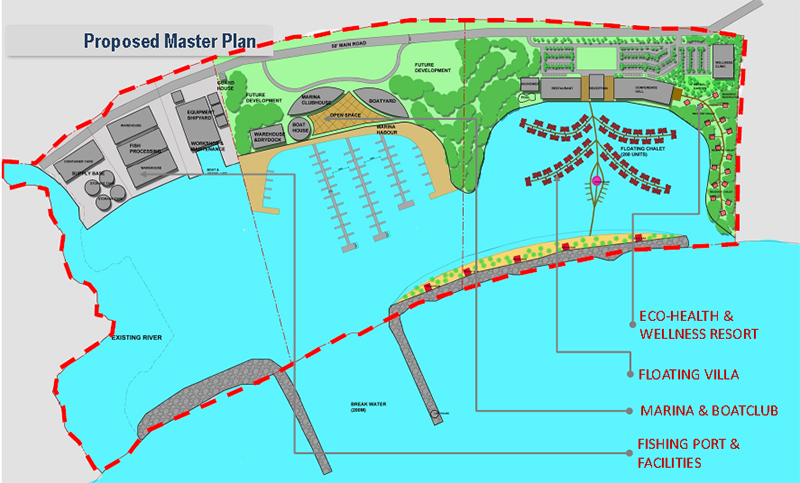 CONCEPTUAL MASTER PLAN
FLOATING VILLA RESORT
Operation Office
Floating Restaurant
Piazza - Open Area
Services Apartment
Floating Villa
HEALTH & WELLNESS MEDICAL RESORT
Medical Center
Recovery Chalet
Spa
Scent & Herbs, Medicinal Gardens
COMMERCIAL & HOTEL
Tourist Center
5 Star Hotel (theme)
Ourdoor & souvenirs Bazaar
Floating Restaurant
LAND & WATER THEME PARK
Water Theme Park
Fantasy Land
Camp Site
MARINA BOAT CLUB
FISHING PORT & FACILITIES
AMC Concept
The Advantage of Zero Gravity & Tranquil Space Environment to  Medical & Health Improvement.